Bring a Mission Team from your Church
Throughout the history of the Mission, we have received many teams from churches who join us in our work in Tuis. Primarily, the groups who visit us are from North America and are either groups of young people or adults, or combined.
Each group enriches the community of Tuis with activities that reflect the gifts and skills of its members. The activities that the groups can do are diverse: supporting the ministries of the Mission congregation; educational outreach programs for the local school or church; teaching English as a second language; construction projects, visiting communities, sports and many more.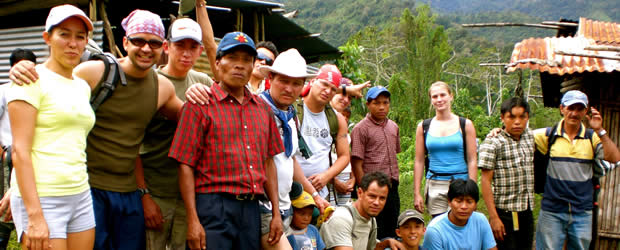 To begin the process, the team leader contacts our offices and does a telephone interview where they discuss the potential team trip and the different activities they can undertake in order to support the Voz Que Clama Mission.
Our Program Coordinator then makes an itinerary with an estimated budget that is given to the team leader.
Please contact us for more details and for references of churches who have visited us in the past.
Testimony from Healdsburg Community Church Mission Team
Our Healdsburg Community Church Mission Team prepared for our Mission Trip to Costa Rica for over a year! There were many meetings of talking about the trip, fundraisers that helped us financially to make the trip a reality, studies that helped us to know what each of our Spiritual gifts and talents are so that we could work together on representing Christ the best way we knew how.
We wanted our Mission Trip to Costa Rica to be about making a difference in the lives we came in contact with…from our homestay families to the children we did crafts with, from those we worshiped with on Sunday to those we came in contact with at the outreach and prayer meetings we helped to lead. We went hoping to make a difference, but the difference was life changing for us!
Our team of 13 members were divided among 4 homestay families, who were exceptionally gracious and welcoming. Though we didn't know much Spanish when came, we learned in a very short time how to communicate our needs and in return we were blessed with generosity and unconditional love.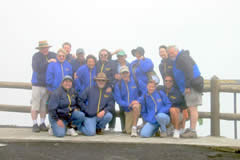 During our week we received 3 two-hour Spanish lessons from trained teachers which helped to improve our level of communication with our new families. We also experienced special events such as zip-lining though the jungle canopies and walking the ancient roads of Turrialba, as well as a mountain ride up to a local volcano.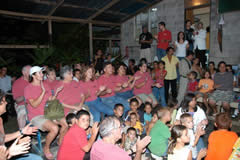 Our mission project was geared around painting and preparing the new Mission building to be ready for worship. We were excited to be able to give back to these wonderful people of Tuis for their hospitality. Our day consisted of working on the Mission in the morning and three afternoons of Spanish lessons. On a couple of mornings we also went to an elementary school to share some crafts and history of our own Thanksgiving tradition. In the evenings we helped to lead a prayer meeting for about 75 people, led a "crusade" with music and testimonies for perhaps 200 participants, with 50 or 60 people receiving Christ for the first time. We felt God's hand in all we did, and were amazed at how much we received and took home with us! We will never forget our experience in Tuis, Costa Rica.
Roxanne Lemereis
Mission Team Coordinator
Healdsburg Community Church
California