Our Spanish School
In 2005, we founded CISA, Christian Immersion Spanish Academy, as a Christian alternative for learning Spanish as a second language. The idea arose in response to the need of our visitors to speak Spanish for better interaction with the community.
CISA is a unique concept for acquiring Spanish. It is an immersion experience in the language, while interacting in a small community. Our students liven with Costa Rican Christian families. CISA works in a Christian environment, which are reflected in its values, curriculum, personnel and activities.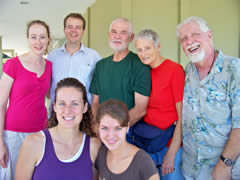 Our students have the opportunity to interact with Christian community at the Mission and in Tuis, which makes their stay more enjoyable. CISA receives groups, families and individuals who are looking to acquire or improve their Spanish skills and share their gifts and faith. Visit us at our website: http://www.cisacostarica.com
CISA also has a location in Escazu, San Jose. The Escazu school is located 25 minutes from the San Jose airport. Escazu is a suburb of San Jose and its proximity to many modern facilities (malls, movie theatres etc), makes this an ideal place to study Spanish in a city setting. Please see our CISA Escazu blog for more details:
http://cisacostarica.wordpress.com
A Testimony from a CISA Family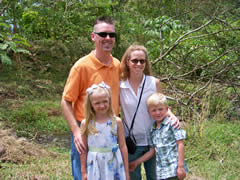 It would be my privilege to give a glowing reference for Christian Immersion Spanish Academy (CISA).
First, some background. My wife Cindy and I were called to join Engineering Ministries International's Latin America office (EMI-AL). EMI is a group of Architects and Engineers who volunteer their service free of charge to other Christian ministries. The Latin America office serves Mexico, Central South America. As a result, I need to speak Spanish.
When we were called, neither Cindy nor I spoke any more Spanish than we could read from a Mexican Restaurant Menu.
When we moved to CISA in April of 2008, our daughter Laura was 6 and had been in Kindergarten for seven months. Our son Tanner was 3.
CISA provided a home for us to live in so we were able to have a retreat from culture shock and a place to parent our children.
What truly amazed me is how the Lord had prepared CISA for us and us for CISA. Each time we had a need beyond language study, someone at CISA new something about how to fulfill that need. We truly felt like the professors and staff cared about us and our family.
Although CISA offered a program for the kids, we realized that Laura would be better off in the public language school where she would be even more immersed in the Costa Rican culture. Since she had already been in Kindergarten for seven months we knew the curriculum would not be a challenge for her so she could focus on the language and cultural differences. Amazingly, when we mentioned this desire to our professor, she said the Kindergarten teacher was her sister-in-law and called her to find out how to get Laura enrolled. Laura was the first "gringa" to attend the public school in Tuis and we cherish the time she spent there, preparing her for the larger public school here in Atenas Costa Rica where we live now.
There are so many examples of how friends and staff in Tuis helped us with adjusting to the culture; far more than just learning Spanish, we learned from CISA how to live in Costa Rica.
The program at CISA is tailored to each student. At times Cindy and I each had our own professor one-on-one. After seven months of school, starting from no Spanish, Cindy and I are able to hold conversations with locals and communicate our needs and feelings. When we were back in the States in December, as I was speaking Spanish at church I was awestruck that the Lord has allowed me to learn another language. Pretty exciting for a 40 year old!
Although we did not work with the Mission to the indigenous in Tuis, Cindy made a few journeys to Chirripó, an indigenous reservation, and used her training as a nurse to hold a clinic. This has been a great time for her to see the Lord using her skills here where He has called us.
I hope this communicates that I highly recommend CISA. I pray the Lord will give you wisdom and clear leading where you should take your family for language training.
Tim Clem
www.clemsincostarica.blogspot.com